The benefits – for business and employees – resulting from the introduction of a welfare plan can be substantially grouped into 3 macrocategories:
Optimizing the tax advantage for the company, according to the current legislation and, in particular, art. 51 and 100 of the Single Income Tax Text
Increased purchasing power for the employee: taxed and decontributed benefits but also discounts, promotions, conventions, goods and services with exclusive conditions
Increased corporate well-being: improving the company's climate, reducing turnover and absenteeism, increased attraction and retention for the company
The worker's point of view: optimizing the tax advantage and corporate well-being
Through welfare plans, the company can offer workers a panel of non-monetary services and benefits whose value – at the same cost incurred – is in fact higher than that generated by the direct disbursement of the corresponding payroll figure by virtue of greater tax convenience.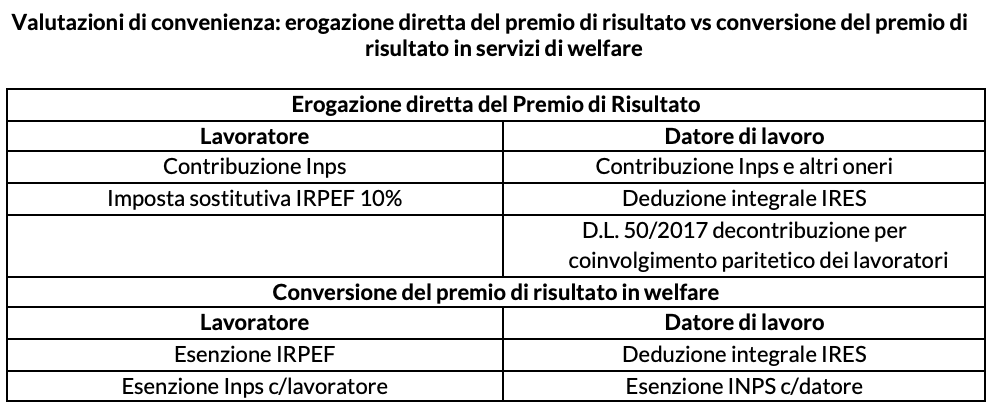 The difference is far from negligible and therefore means that the employee is primarily increasing the purchasing power of his or her pay. For example, it will be enough to consider the case of a worker who receives a gross annual salary of 28,000 euros and who receives a result award of 3,000 euros per year. There are in fact three possibilities: 1) a direct increase in payroll, resulting in an increase in the RAL; 2) the payment of the result premium in payroll; 3) the conversion of the result premium into corporate welfare services.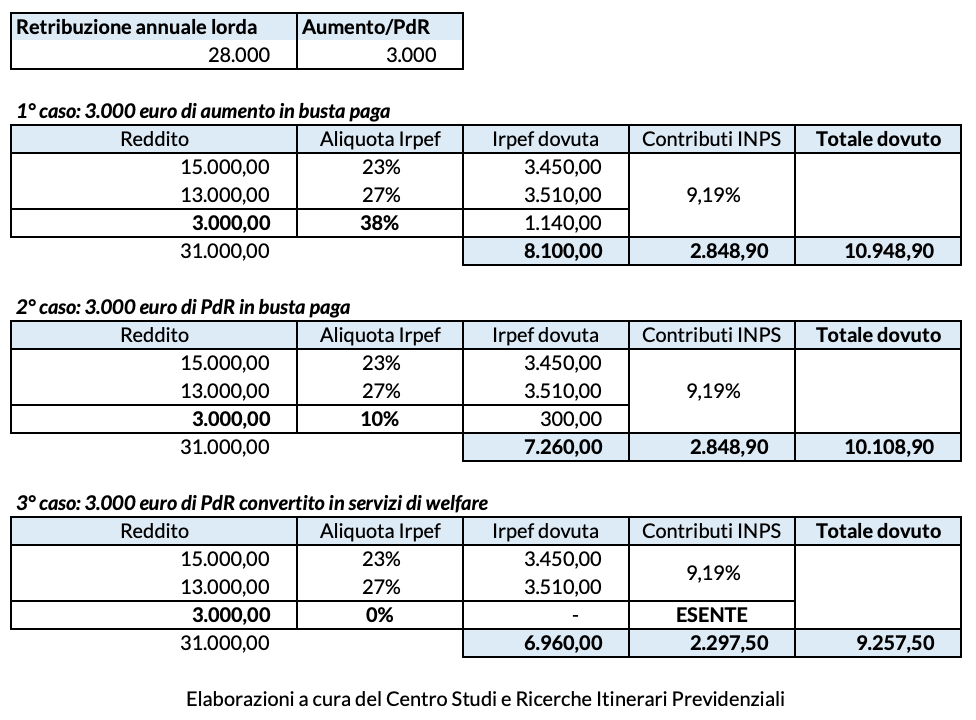 As the table shows, which for simplicity of calculation does not consider any deductions for family loads and expenses for the production of income or tax breaks per employee, the first case turns out to be the most onerous in tax terms, since the RAL will be entirely subject to the rates of the IRPEF scales, so the increase of 3 thousand euros will be taxed at 38% (third step). In the second case, the premium paid in the pay packet will be subject to a 10% replacement tax (however cheaper than the 38% provided in the first case); Finally, in the third case, that is, by converting the result premium into corporate welfare, the tax advantage translates both into the full tax deductibility of the premium itself and the complete exemption of the withholding of INPS contributions. In practice, therefore, a real reduction in the tax and contribution wedge. If, in addition to the tax benefit of the tax cut in the result premium, contributions to supplementary pensions and supplementary health care, which are fully deductible within the limits of the legislation, were added, the tax savings owed would then be even greater.
In summary, corporate welfare can therefore offer the employee a twofold opportunity: to benefit from useful services for himself and for his employees on family members and to have additional savings to be used for their consumption, favoring along this way a greater "loyalty" towards the company.
Source: pensionielavoro.it